Felix Vetter receives "VHB MLP-Nachwuchspreis" for outstanding scientific achievement
For his dissertation on "Financial Gatekeeper Regulation", our TRR 266 Research Fellow Felix Vetter was awarded the "MLP-Nachwuchspreis" (MLP Young Researcher Award) of the Verband der Hochschullehrer für Betriebswirtschaft (VHB) on March 16, 2021. In his research, Vetter investigated issues such as the ethical behavior of market agents and the influence of licensing on the financial adviser and audit market.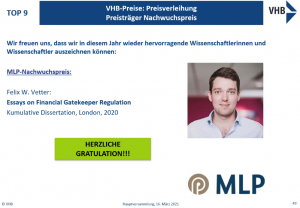 About the Award
The "MLP-Nachwuchspreis" is awarded once a year to young researchers. Since it is important that they face discussions in international research communities, the international publication of their own research results in a renowned place is a prerequisite for the nomination of the researchers. The award is sponsored by MLP Finanzberatung SE and is endowed with € 2,500.
Further information in the press release of the VHB.