Ski jumping – lesson 1: more transparency, fairer performance evaluations

From the ski jumping hill to organizations: In a new study, TRR 266 researcher Christian Hofmann, together with Jan Bouwens and Christopher Lechner, shows that ski jumping judges favor athletes from the same nation – and highlights how these findings can be used in a corporate context. The bottom line: more transparency in subjective evaluation processes leads to fairer and thus, better decisions.
Scandal about Markus Eisenbichler at the Four Hills Tournament in Garmisch-Partenkirchen: Eisenbichler wobbled tremendously – both in the air and on landing. Nevertheless, the German ski jumper got top marks and finished second – only 0.2 points short of the winner. This sparked a huge outcry by the Norwegian team, since Eisenbichler received his highest score (18.5 points) from the German judge. The accusation: the judge favored his compatriot. Not an exception in ski jumping – as our new study shows. It can serve as a blueprint for subjective evaluations in firms.
Our study examines the subjective evaluations of athletes' performances from international judges in professional ski jumping between the years 2017 and 2021 – and finds: on average, judges rate athletes from their own country 0.1 style point better. Even though the highest and lowest scores are traditionally discarded in ski jumping, such effects can have an impact on the final rankings: The other jury members also give higher points to an athlete who has a compatriot on the panel. Overall, this results in an average distortion of 0.25 points. Almost 15 percent of the rankings could change as a result. Corona has made the situation even worse. Without the physical presence of an audience, a control body is missing. One possible solution: more judges. A jury representing the nationalities of all ski jumpers could balance out the preferential evaluation of athletes on the basis of their nationality.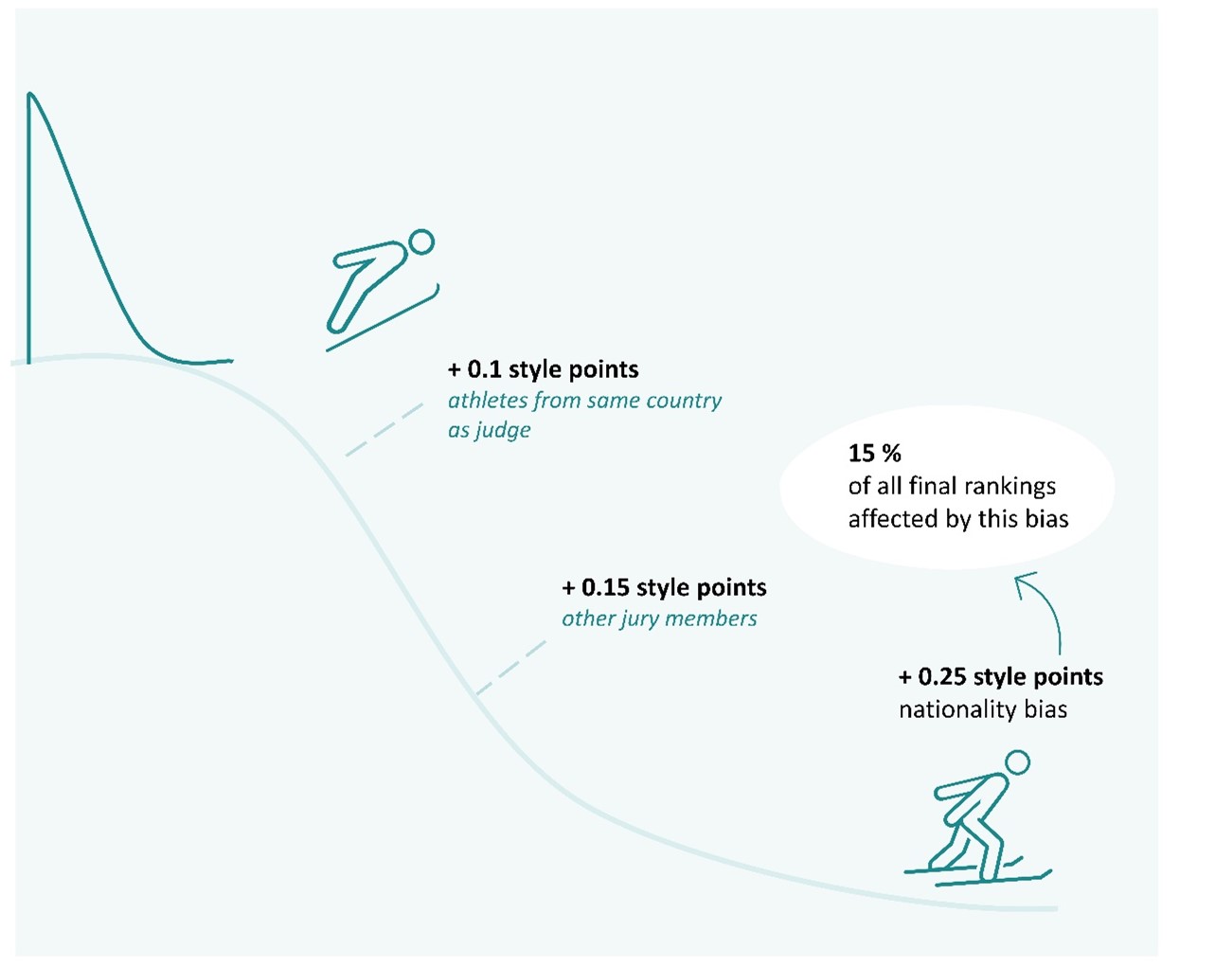 The jump into the corporate context
These results should not only provide impulses for the FIS (Fédération Internationale de Ski) to balance the playing field. The context studied has some parallels to companies due to its institutional characteristics. Our findings can help companies establish processes and practices that facilitate fair evaluations of employees, projects, or investments: For example, in appointment or promotion committees or in innovation and cost-saving competitions. That is important, since systematic biases in subjective evaluations can have detrimental effects on employee motivation and efficient decision-making.
Exploiting sports data to tackle accounting questions may seem odd at first glance. However, this approach has a long tradition in economics and also accounting researchers have begun to use such data more recently. In our case, the approach helps to circumvent massive data limitations we face in the corporate context. Employee data is hardly available and usually protected by privacy policies. The ski jumping setting can fill this void, since it offers a comparable setting and good data availability. A good basis to draw conclusions for organizations.
a) Data availability: ski jumping vs. corporate environment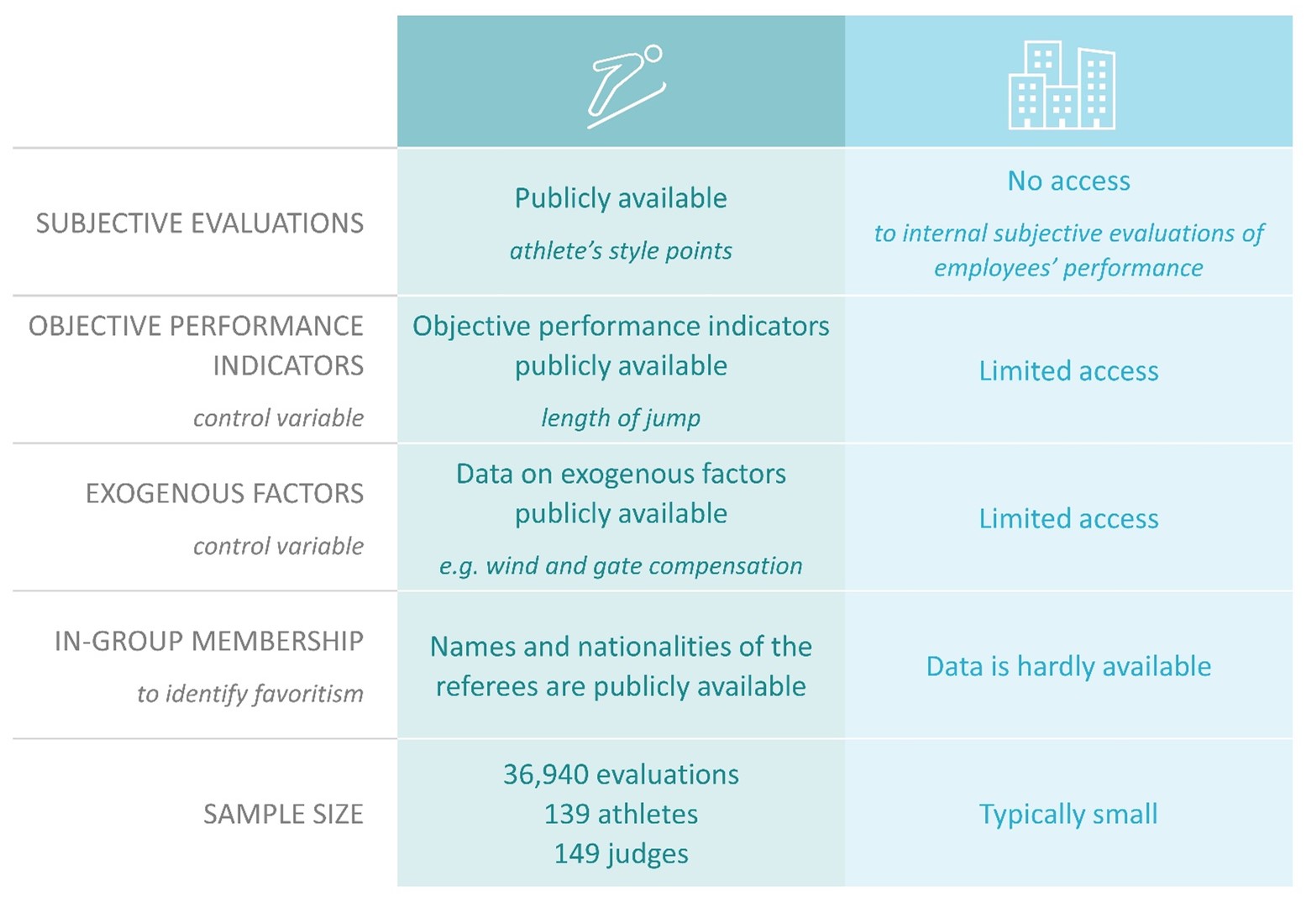 b) Differences and parallels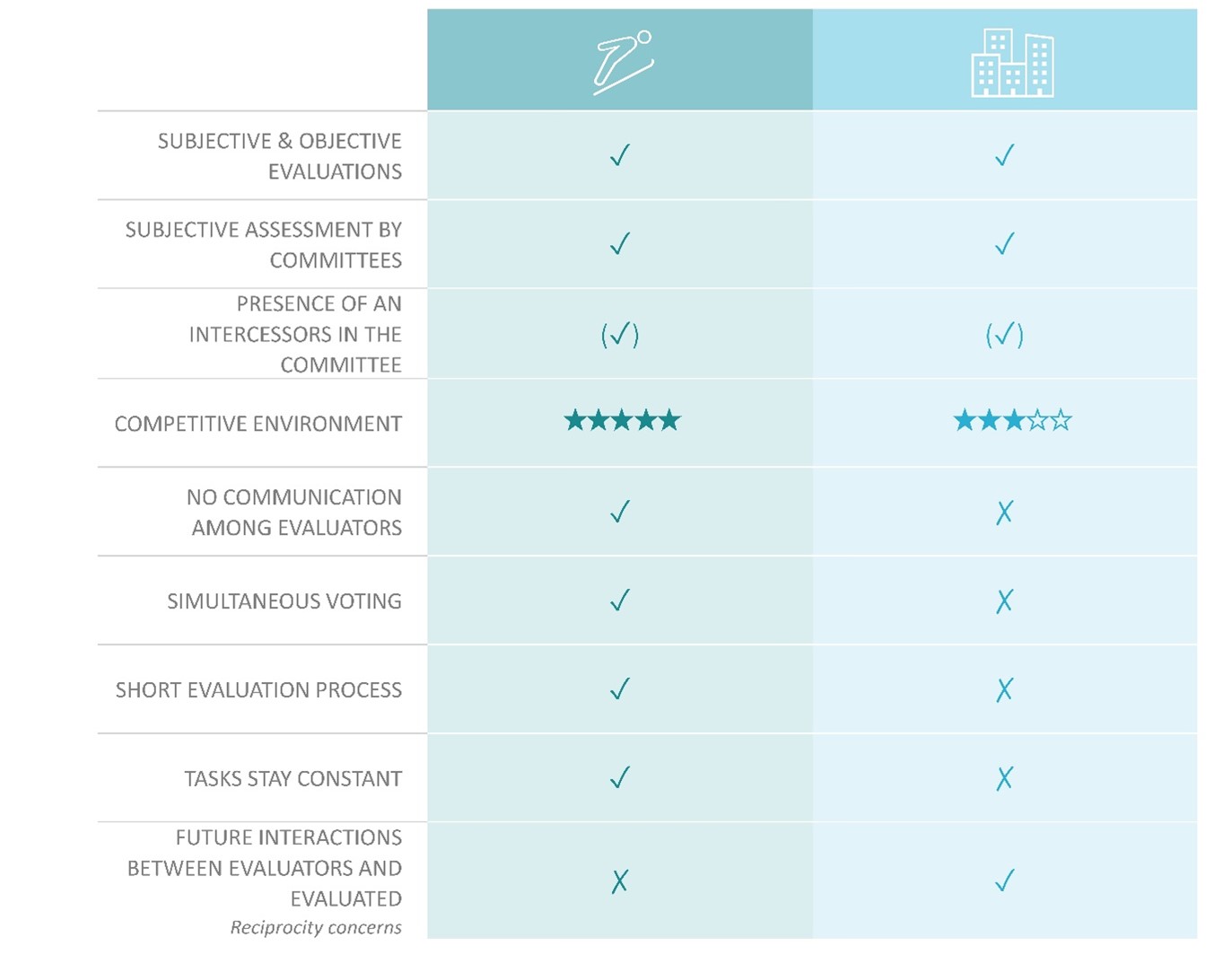 More transparency, fairer decisions
Thus, what seems to be true in ski jumping might also be true in organizations: more transparency during the evaluation process – through the physical presence of a "stakeholder" – is an important mechanism for fairer performance evaluations. Decision-making processes in committees could benefit if representatives of various stakeholders were included and appointed to these committees. Even if those representatives have no vote on the final decision, their physical presence during the decision-making process can help to arrive at fairer and less biased evaluations. Also, the final pitches of employees' ideas in innovation or cost savings competitions should rather take place in town-hall meetings in front of the workforce than only before the jury members to ensure fairer evaluations.
Finally, in person meetings trump virtual ones for less distorted evaluations. Due to the pandemic, many corporations conduct their general meetings virtually. While this certainly reduces the spread of the virus, it may increase the likelihood of biased evaluations. The physical presence of the corporation's shareholders as well as of the other stakeholders like employees, auditors, or the press leads to an increased level of transparency. This increased transparency might mitigate managers' inherent preferences and contribute to a less biased evaluation about the organization's position and outlooks.
To cite this blog:
Bouwens, J., Hofmann, C., Lechner, C. (2022, February 10). Ski jumping – lesson 1: more transparency, fairer performance evaluations, TRR 266 Accounting for Transparency Blog. https://www.accounting-for-transparency.de/blog/ski-jumping-lesson-1-more-transparency-fairer-performance-evaluations/
Our study is subject to some limitations. A potential correlation between the nationality of the judge and the relative quality of the athletes from that same country, which goes beyond what the objective performance indicators capture, would limit our inferences. In addition, our results are subject to the caveat of being based on a single setting, which might hinder the generalization to other settings. Professional sports has many unique characteristics, such as the athletes' relatively short careers, their youth, or sports-specific regulations. However, several characteristics of our setting, such as the readily available objective as well as subjective performance measure, a strong competitive environment, the high stakes, and a variety of mechanisms to facilitate fair and unbiased evaluations suggest that inherent preferences should be muted in comparison to more traditional empirical settings. Overall, our main emphasis is on individuals' subjective evaluations and not on the actions of the athletes themselves. These individuals face a general task of subjectively evaluating the agents' performance with or without the physical presence of a stakeholder, as is the case in diverse organizational settings.